Thanks for these updates @Jimmy - good to see FMG still in the top 5. Hard to believe that Swoop is not in the bottom 5 considering their share price "performance" over the past year...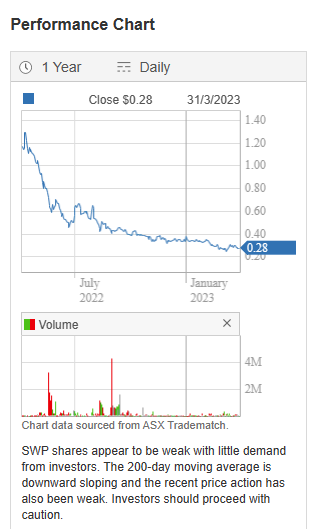 You certainly wouldn't be attracted to them based on the technicals... It's a pretty nasty chart!
Fundamentally they look much better, to me anyway. I still hold them, but I haven't been adding more lately. I've sunk enough into this one for now. I've learn't that continuing to average down in the certain knowledge that I am right and everybody else is wrong... is a strategy that is fraught with danger, and unhappy endings. Because it often turns out that the market knew something that I didn't, or that their instincts (to avoid the company at all costs) were far better than mine. Doesn't pan out like that every time, but enough times to give me reason to hold off on adding more despite them going from crazy-cheap (in my view) to rediculously-cheap (again, in my view).
Swoop's management and board, who I have posted about here, have heaps of relevant industry experience and have performed well in previous roles and built substantial shareholder wealth when running or working for other companies, but they haven't been able to replicate that success with Swoop to date. Not sure why. Different time, different industry dynamics, less telcos to roll up now, the guys are already rich and perhaps not as hungry and motivated as they were previously?
I started by comparing Swoop (SWP) to Uniti Group, and explained why I had sold out of Uniti and switched into Swoop. Of course Swoop has been heading south east ever since and Uniti almost immediately received a takeover offer at a decent premium and got bought out at that higher price. If memory serves, I reckon their might have been two bidders, so there was a little bidding war before Uniti got taken out. Timing is everything. And mine sucks sometimes!
Looking at that Swoop 1-year chart, I guess most of the damage was done prior to July (the start of FY2023), so while Swoop are clearly down, they're not down AS MUCH since June 30th as they are since this time last year. Perhaps that's what's keeping them out of Jimmy's "5 Worst Performers" list... I think they were in there earlier on - like a few months ago. Not lately though...
Swoop were trading at between $2 and $2.31/share through September and October 2021. Now 27.5 cents - Commsec has kindly rounded that up to 28 cents for the purposes of that chart (nice people that they are). Not one of my better performing stock picks...
Too cheap to sell down here IMHO, however I'm not adding more either.