October 23
Given Polynovo was a popular topic of conversation yesterday at the Brisbane meetup, I thought I might share my valuation methodology for some feedback after updating for FY23 numbers.
My valuation is based the following assumptions:
Cost per employee and other expenses as a percentage of revenue are relatively stable.
Gross margin of 85%. Is this correct/conservative?
I am conservatively (or maybe not??) assuming the growth isn't going to continue or accelerate from current position.
R+D of $5-6mil a year.
Assuming a PE40 in FY28 with 15% discount rate (required return). In all cases this gives a PEG of less than 2.
Additional 70 employees a year to create the growth.
The two major factors contributing to the profitability of Polynovo and hence my valuation after the above assumptions are:
The increase in revenue over time
The extra cost of the additional employees which enables the revenue growth.
I'll start with where I get my numbers from. The table below extracts the % in comparison to revenues from previous years to be able to make the assumptions going forward: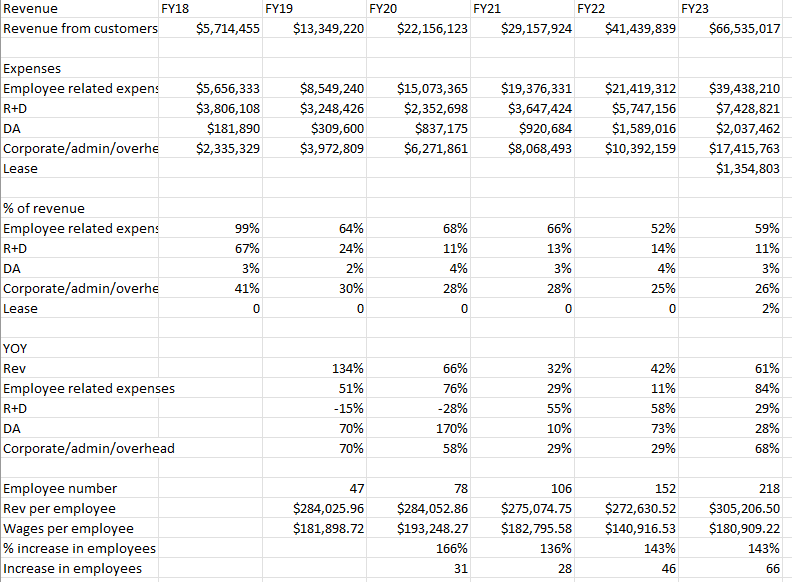 My base, stretch and bear cases are below, orange cells are inputs with the highlighted yellow being the discounted back valuation. My final valuation is the average of the three at $2.19.


Would be extremely interested in any feedback and thoughts on the above! Models are never correct and my model above is somewhat simplistic. When I do the numbers in the way I have Polynovo looks like a potential cash printer but I don't know if my numbers further down the line are a bit too optimistic!