Founded in 1998, Webjet (ASX:WEB) has grown to be a significant player in the travel space, having asserted dominance in the online travel agency and B2B accommodation sectors. Earlier this year, investors were especially optimistic about Webjet's future prospects, pushing the share price to its 52 week high of $17.19. But after a few downgrades, and with major partner Thomas Cook entering into liquidation, shares are now changing hands at just $11.00.
Has recent information justified such a fall or is this a buying opportunity?
Thomas Cook's demise
Prior to the official bankruptcy of veteran travel agency and major partner Thomas Cook, Webjet had already lowered total transaction value (TTV) estimates from Thomas Cook to $150-200 million from $300-450 million. The other impact was a loss of receivables of €27m.
But with Webjet's overall TTV sitting at $3.83 billion, and cash balance of $211.4 million, the recent sell-off may seem a bit extreme. It is promising to note that besides the unfortunate demise of their partner, Webjet management have not changed their forecasts for other earnings drivers in FY20.
It is important to look at the fundamental performance of the underlying business to see if recent noise has exposed value.
Full year results
Despite the undoubtedly unfortunate impact of Thomas Cook, Webjet's recent results were quite strong with the business reporting significant increases in TTV, revenue, EBITDA and net profit. Frequent acquisitions can make the interpretation of the financials more difficult, but it is certainly promising to see these metrics continuing to improve.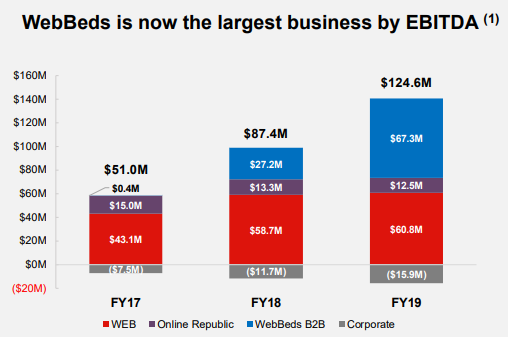 Onlookers might find it interesting that the original core business is no longer the biggest driver of profits, with WebBeds showing significant EBITDA growth in the last two years from $0.4 million in FY17 to $67.3 million in FY19. This impressive expansion is keeping the business firmly on a growth footing, despite a moderation in the other divisions as they reach scale and are impacted by slowing economic conditions. 
With last year's earnings per share (EPS) growth (before acquisition amortisation) clocking in at 37%, and more growth expected in the current year, the P/E multiple of 17.8 seems rather tame.
Despite the one-off impact from Thomas Cook and concerns over a slowing economy, Webjet remains a community favourite on the Strawman platform. Ranked #11, and with shares below the consensus value estimate, it could be worth a closer look.
Strawman is Australia's premier online investment club. Join for free to access independent & actionable recommendations from proven private investors.
Disclaimer– The author may hold positions in the stocks mentioned in this publication, at the time of writing. The information contained in the publication and the links shared are general in nature and does not take into account your personal situation. You should consider whether the information is appropriate to your needs, and where appropriate, seek professional advice from a financial adviser. For errors that warrant correction please contact the editor at admin@strawman.com.
---
This Service provides general financial advice only, and has not taken your personal circumstances into account. Strawman Pty Ltd operates under AFSL 501223 . For more information please see our Terms of use. Please remember that share market investments can go up and down and that past performance is not necessarily indicative of future returns. Strawman Pty Ltd does not guarantee the performance of, or returns on any investment.
© 2019 Strawman Pty Ltd. All rights reserved.
| Privacy Policy | Terms of Service | Financial Services Guide |
ACN: 610 908 211 | Australian Financial Services Licence (AFSL): 501223