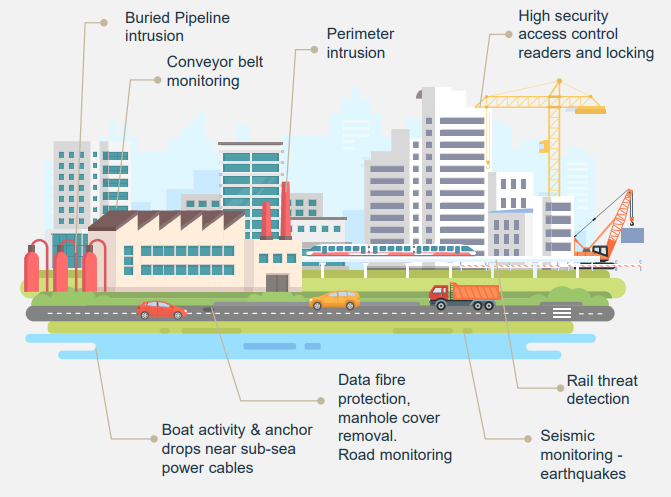 At the end of last month, AVA Risk Group (ASX:AVA) reported half year revenue down 43% to $20.2 million, but half year profit before tax up a whopping 198%, thanks to its gain on disposal of its services business. That gain put the company in a position to pay over 16 cents per share to shareholders, in the form of a special dividend and capital return. Last week, Strawman Premium members caught up with the CEO Rob Broomfield to hear more about the company's business going forward.
On the call, Rob explained how the company would be focussing on growing its fibre-optic monitoring business (perimeter security) and its smart locking business (access control solutions). The fibre optic business saw revenue of about $7.4m during the half, which was down on $12.5m in the prior corresponding period, which included part of a large Indian Ministry of Defence licensing payment.
Happily for shareholders, the perimeter control solution has applications well beyond military security. In fact, the CEO said that the new Aura IQ monitoring platform "can monitor 100km [of fibre] and divide it up into half meter segments." This can be applied to monitoring mining conveyor belts, to alert mining companies when high levels of vibrations indicate a part may need to be replaced.
This can be a major cost saving, as the CEO explained:
"At the moment there's no reliable way of knowing if a bearing is going to fail. They might have someone listening for unusual noises, that's not particularly reliable. There are failure modes for which there is no evidence it is about to fail, and the failure can be quite spectacular. In some mines they replace a certain quantity of rollers whether they are good or bad…"
If they don't detect the fault, it can cut the conveyor belt or cause a fire. The CEO continued:
"It can slice through the conveyor belt. The bigger issue is fires… They are putting in fire solutions but that's kinda late; once you have a fire, you're going to have some form of damage. What we're doing is providing information well in advance on the state of the bearings… so you can replace the specific rollers that need to be replaced."
Based on this description you could certainly see why mines might want Aura IQ installed on their conveyor belts. And the CEO seems to confirm this return on investment (for the customer) when he mentioned that one customer had seen the system pay itself off in just a few months. If this holds true, then we could see strong organic growth from here.
On the other hand, Strawman member Noddy74 gave an excellent word of warning, in pointing out that previous optimism around Aura IQ has not been vindicated. Noddy writes:
​​"By the time of the AGM in late October the language in regards to Aura IQ was now "…AVA Group expects to sign multi-year agreements in 1H FY2022 which will generate annual recurring revenues in 2H FY2022…". 1H came and went without further announcements."
Personally, I think that AVA Risk Group is well worth following, because the sale of the services business (and capital return) shows that the company is willing to share success with all shareholders. On the other hand, once you focus on continuing businesses, the company isn't doing much better than breaking even. That means, it will definitely need to show some growth before we see substantial share price gains.
Arguably, the opportunity may be more favourable after AVA Risk announces a substantial contact win for Aura IQ. Sure, the share price will probably be higher if that happens, but we'll also have more certainty that this relatively new Aura IQ product can win big customers.
---
This post was contributed by Claude Walker. Check out the A Rich Life Ethical Equities column for more of his articles.
Please remember that these are personal reflections about a stock by author. The author does not own shares in AVA Risk Group at the time of publication. This article should not form the basis of an investment decision. It is an investment diary valuable only for the cognitive process it demonstrates. We do not provide financial advice, and any commentary is general in nature. Please read our disclaimer.
---
Disclaimer– The author may hold positions in the stocks mentioned in this publication, at the time of writing. The information contained in the publication and the links shared are general in nature and does not take into account your personal situation. You should consider whether the information is appropriate to your needs, and where appropriate, seek professional advice from a financial adviser. For errors that warrant correction please contact the editor at admin@strawman.com.
© 2022 Strawman Pty Ltd. All rights reserved.
| Privacy Policy | Terms of Service | Financial Services Guide |
ACN: 610 908 211